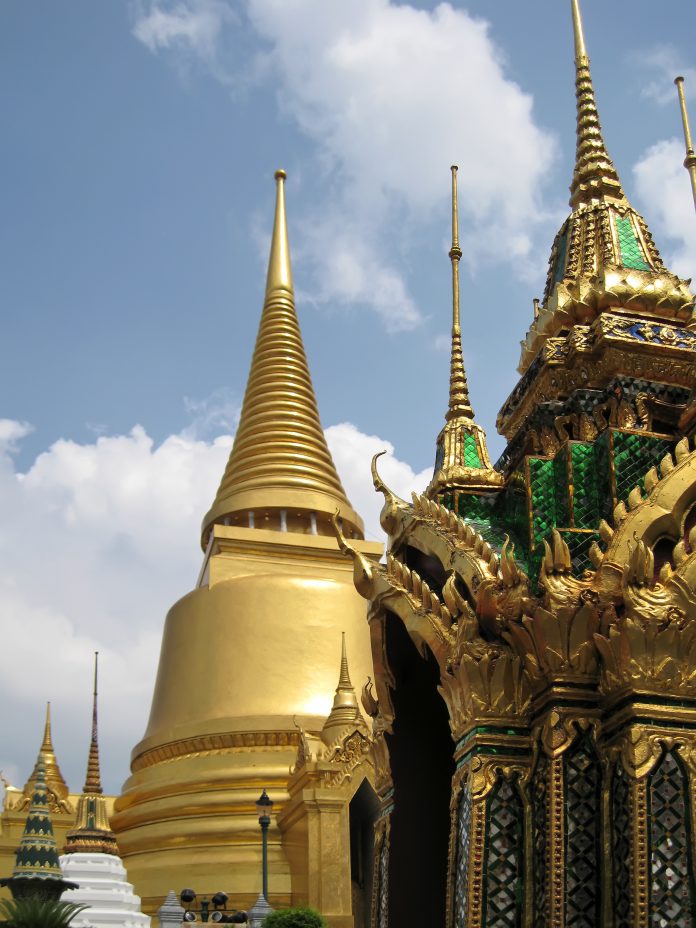 Bangkok is currently the capital city of Thailand. However, this hasn't always been the case. When it was first erected, it was a port community and trading center. Located on the Chao Phraya River's west bank, it came into existence some two centuries ago. Today, it is a very modern city but it still holds some of the glory and grandeur of its past. Bangkok has beautiful temples, great palaces, a floating market known the world over and Chinatown, which full of colors and life. Each little part of Bangkok has a story to tell. Let's take a look at the five must-see places in this city.
Wat Arun, the Temple of Dawn, at the Riverside
Wat Arun has some amazing towering spires and their silhouette is truly impressive. Indeed, it is probably the most recognized temple in all of southeast Asia. It was constructed in the ancient Khmer style in the beginning of the 19th century. The floral pattern showcased on the stupa is ornate in design. Spotting the glazed porcelain from a distance is impressive, and seeing it up close even more so. Wat Arun is absolutely stunning, but it is also highly symbolic. It represents the beginning of the Rattanakosin Period, which was when the new capital of Thailand was founded. Prior to this, Ayutthaya was the capital, but this city fell during the wars that followed.
The Grand Palace & Wat Phra Kaew in the Old City
Wat Phra Kaew and the Grand Palace are respected by anybody who ever had the chance to walk along their grounds, which are sacred. The palace was constructed in 1782 and it was the home of the Thai King and his Royal Court for 150 years. To this day, it is highly popular among tourists who love the intricate detail and fantastic architecture of the building itself. The Wat Phra Kaew encircles the Emerald Buddha, Phra Keaw Morakot, which is an image of the Buddha carved meticulously using just one block of emerald.
The Bangkok Floating Market of Damnoen Saduak
This market is a true pioneer when it comes to floating markets. To this day, it offers authentic Thai experience, even though more and more tourists flock here on a daily basis. In the market, you will see dozens of traditional wooden boats that are fully laden with vegetables, fruits, flowers and other local produce. Additionally, there are vendors of food who have entire charcoal grills and cauldrons on their boats, ready to serve you with seafood skewers or "boat noodles."
Chinatown or Yaowarat
Chinatown is exotic, colorful and wonderfully chaotic. If you are shopping for gold, this is the place to be. The Vegetarian Festival and the Chinese New Year are not to be missed. The entire town will be full of dynamic celebration. Even if you are not there during these festivals, Chinatown is worth a visit.
Wat Pho, Old City
Most people know Wat Pho for its gigantic reclining Buddha. Some also go there for traditional Thai massages. However, it is also full of inscriptions, murals and sculptures that represent various topics like astronomy, warfare and archeology. It is a huge and beautiful landscaped complex where you can really steep into ancient culture.