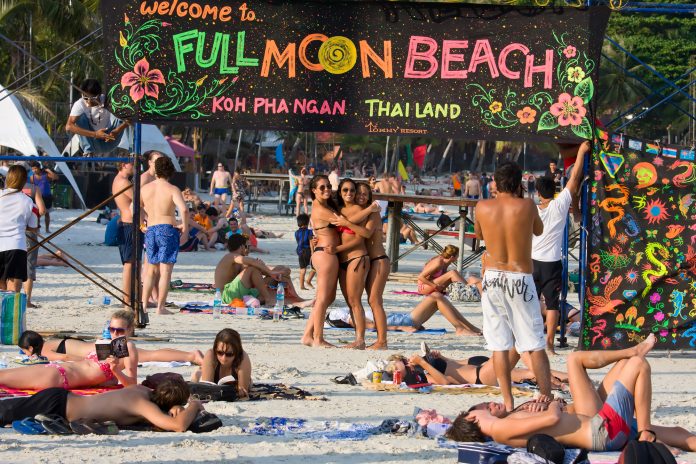 There are many things that we associate with Thailand and for the younger generation one of the main attractions is the Full Moon Parties that are held in various places in the Kingdom but perhaps the best known is on the island of Koh Phangan that is located in the south of Thailand. The party on Koh Phangan takes place on the crescent shaped beach of Haad Rin and each month the party can attract anywhere between 10,000 and 30,000 revellers – so when we say this is a big party we certainly mean it!
We shall concentrate on main, original party but we shall also briefly touch upon the other options that are available if you are looking for something that is perhaps a little bit more sedate.
Koh Phangan
As we said, this is the original and probably the best of the Full Moon Parties that are held in Thailand. The party is not surprisingly held every lunar month on the full moon is perhaps exactly what you would expect a party to be really like here in Thailand – fun and wild! The parties tend to get started before the sun as even set with copious amounts of alcohol being available as well as being drunk! It is hard to say when the party finishes at tends to be with the last person standing and have often been known to roll over into the next day.
One of the most popular drinks that are available is the cocktail bucket. This can be simple things such as Sangsom and Coke (Basically Rum and Coke although Thai's do refer to Samgsom as being Thai whiskey), cocktails such as Sex on the Beach to basically just a combination of alcoholic drinks thrown into a bucket and usually consumed with a straw. Although there are large amounts of alcohol available it should be stressed that drinking to excess is something that is frowned upon by many locals and the hotels and those that do not heed this warnings can put themselves at danger.
The events that take place at the parties range from just music being played to limbo dancing and other events that you would associate with many parties that you see around the World. There are usually shows that you may associate more with a circus such as acrobatics and fire eating but the key event is certainly just having a good time and mixing with friends both old and new. The atmosphere is always very relaxed although as you would expect with so many people in attendance you may find that some people take things a little bit too far. Another word or warning is that thieves do operate at these events so using common sense is always advisable.
As with everywhere else in Thailand, drugs are seriously frowned upon and the consequences or getting caught with them either in your system on your person are very severe. They are available at these sorts of events but should certainly be avoided with the police, both uniformed and plain clothed being in operation.
Most importantly enjoy the event for what it is. This is a great party and something that is well worth seeing and experiencing and the memories are likely to stay with you for the rest of your life.
Koh Samet
This is certainly one of the milder parties but definitely fun all the same. Koh Samet is located around an hour's drive to the south of the popular resort of Pattaya. The island requires little excuse to get into the party spirit and the Full Moon parties tend to get started at sunset and finish around midnight or little bit after but certainly do not run throughout the night.
The hotels and locals do not mind partying but they do not appreciate drunken behaviour. Similar to the events on Koh Phangan drugs must be avoid and common sense should certainly be adopted in terms of petty crime although this is not seen as a major threat
Koh Chang
Again a smaller party but one is certainly held most months if not every one. The island is one of the larger islands and located in Trat Province. The parties again start in the evening and finish at a similar time to most of the bars on the island so about midnight to 1am. This is a livelier island than Koh Samet and certainly has something of a nightlife scene so partying is expected and well catered for. The usual precautions should be taken to avoid any upset.
Koh Tao
Koh Tao is a small island that is located in Surat Thani province in the south of Thailand. A Full Moon Party does take place most months but this is a fairly small scale affair and often has tighter police controls with far tighter controls being kept on the revelry. This is a great venue to enjoy the party if you are looking for something more moderate and a little bit less wild. Sensible precautions should be taken at all times.