If you need to stay near to Suvarnabhumi airport for just a night or two and are looking for a budget hotel then you won't go far wrong by choosing the Vismaya Suvarnabhumi hotel.
It can be booked through Agoda and depending on how close to your travel date you book, the rates can vary from 700 baht to 1500 baht or more per night. Interestingly enough the room I booked months in advance cost just 700 baht in advance and included breakfast. The room which I booked just a week in advance for a friend who had decided to join the trip cost 1500 baht and didn't include breakfast.
Visamaya is described as being just a 10 minutes drive from Suvarnabhumi, but whoever wrote that either knows a different route to me or drives like Lewis Hamilton! I found that it takes around 20 – 25 minutes depending on traffic and 5 of those minutes can be spent trying to 'u turn' on the horrendous Kingkaew Road. However, that will only apply to you if you are an expat driving to the hotel yourself. If you are travelling here from abroad or other areas in Thailand then you will be able to take a taxi to the hotel or take advantage of their on the hour shuttle service.
The nice surprise when you arrive at the hotel is that they have a Philippino receptionist who speaks excellent English so that is great for non Thai speakers. You'll get a cold glass of fruit juice while you're checking in and if you've booked online you will normally just need to show your passport without any further documentation. If you are interested in exploring the delights of Bangkok then the staff will be more than happy to book a taxi to you to travel into town.
What are the rooms like?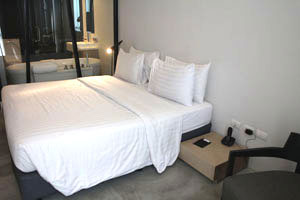 The rooms are pretty nice and decorated in a modern style with a huge and very comfortable double bed. The glass window which gives complete visibility into the bathroom is a little unusual and even the draw around curtain doesn't'hide everything' completely.Rooms have an LCD TV and a mini fridge with complimentary drinking water. Guests can purchase additional food and beverages via room service or at the plush bar area which is adjacent to the pool.
Complimentary wifi is available in all rooms along with tea and coffee making facilities.
How About The Pool Area?
The pool area is great for swimming or just relaxing with a wide range of seating areas from a sofa with wicker tables (great for chilling or doing a little bit of work) tables and chairs where you can sit for a meal, sun loungers and even some 'in pool' loungers.
The pool area is even great in the evenings, there are little lamps lighting up the 'green area and a great breeze to keep the Thai heat at bay.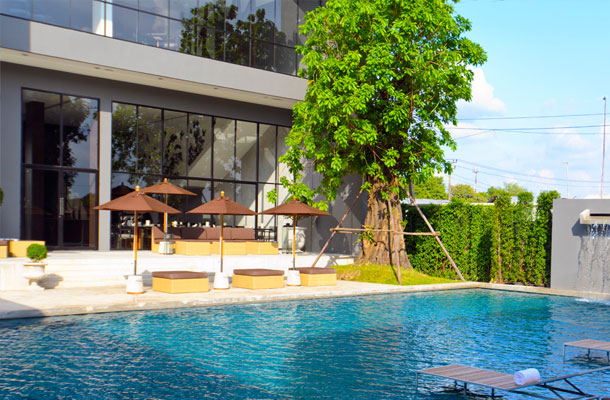 Does the Restaurant serve good food?
The restaurant has a wide variety of snacks and main meals at quite reasonable prices, 380 baht for salmon steak with salad and 230 baht for a club sandwich with chunky chips. Food is served starting with breakfast at 7am until late at night. Breakfast is a Eastern/Western buffet and is served until 10am every day.
Is there any local facitilities
The hotel is located in a typically 'Thai' area with small restaurants and massage shops in walking distance. At the end of the road there is a 7-11 and Tesco Lotus if you need extra supplies but these would be at least a 15 minute walk from the hotel. The hotel foyer has an ATM machine if you prefer not to venture too far.
If you are looking for more information about Vismaya hotel, you can visit their website – thevismaya.com