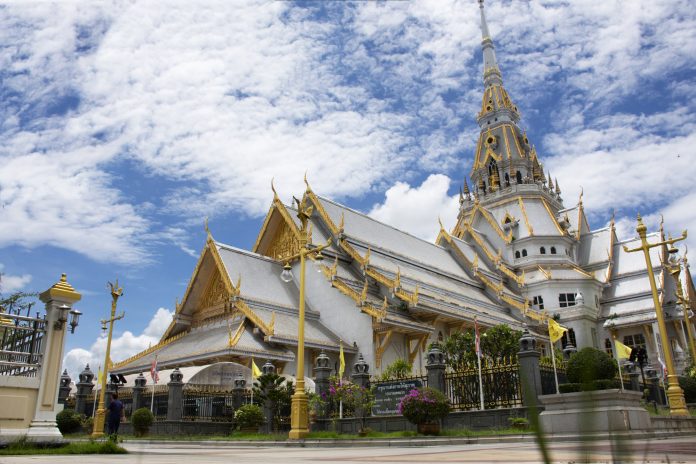 Wat Sothon Wararam Woraviharn: The 'Egg Temple'
Situated along the Bang Pakong River in Chachoengsao or 'Paet Rio', as this province in eastern Thailand is sometimes called, lies the famous Buddhist temple known as Wat Sothon Wararam Woraviharn. The original temple dates back to the latter part of the Ayutthaya period and was built during the reign of King Nari the Great who ruled from 1656 to 1688. Though its original name was Wat Hong, Wat Sothon Wararam Woraviharn, as the temple is now called, is the oldest and most revered temple in the entire province.
The site of the temple, it is said, was selected when three sacred Buddha images were set adrift on the Chao Phya Bang Pakong (River) in order to save them during a time of war. Legend has it that all the villagers along the Buddha's path attempted, without success, to lure the holy images to shore as they lazily floated downstream. A villager in Chachoengsao however, hit upon the idea of erecting a riverbank shrine upon which a ceremony inviting the Buddha images to stay at their temple was performed. It was to this ceremony, and to Wat Hong that the image of Luang Pho Sothon was attracted. The temple was immediately renamed Wat Sothon Wararam Woraviharn to honor the image, and it is where Luang Pho Sothon has resided ever since.
The image of Luang Pho Sothon is housed in a recently constructed usbot, which is Thai for "ordination hall". The new usbot was built in the style of the Rattanakosin period. At 84 meters high, this ordination hall is thought to be the largest in all of Thailand. The image of Luang Pho Sothon, is crafted in the Northeastern Lan-Chang style, and is at repose in the meditation position. Made of gilded stucco the image measures 165 centimeters from knee to knee and has a height of 148 centimeters. Some say that within Luang Pho Sothon's stucco, monks hid an ancient bronze statue to protect it from theives.
Regarded as one of the most revered Buddha images in all of Thailand, worshippers come from all across the land of Smiles to worship Luang Pho Sothon's likeness hoping that prosperity will follow. Women with difficulty conceiving a child, leave offerings of boiled eggs for Luang Pho Sothon to increase the odds of becoming pregnant or of having a son. The ordination hall also houses a number of other Buddha images as well as several magnificent hand painted murals and other religious artwork.
Wat Sothon Wararam Woraviharn is open from 7am to 4:30pm on weekdays and 7am to 5pm on weekends and public holidays. Nearby there is a pier where it's possible to join a boat tour of the local market, next door daily performances of traditional Thai dancing take place, and many vendors selling souvenirs and local delicacies are just a few steps away.