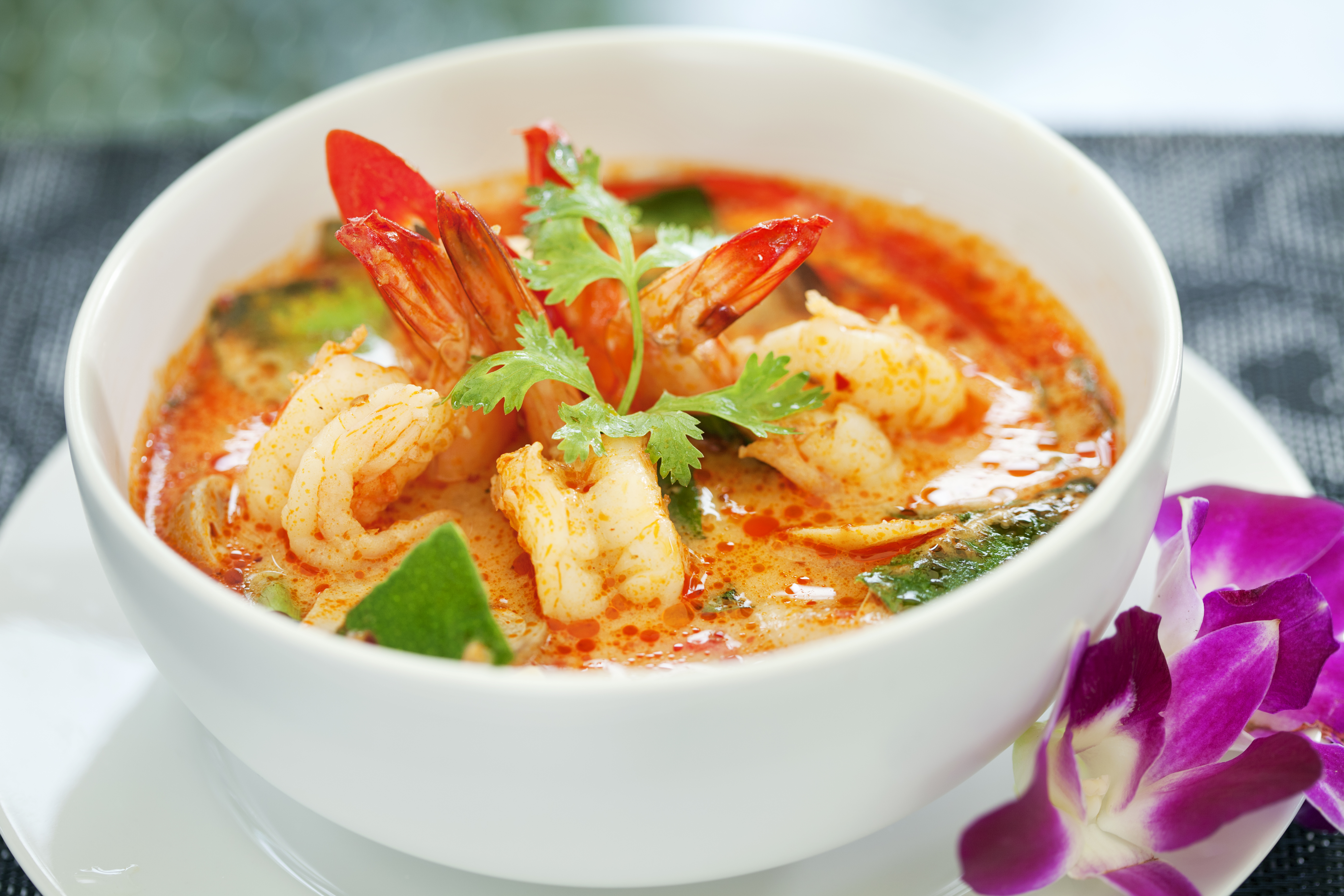 Thailand is a hugely popular tourist destination. As a result, a lot of its historic culture has been modernized and westernized to include the creature comforts we are all used to. However, if you are visiting Thailand, you can also spend some time enjoying the original culture, which includes fantastic dishes. Since you can go to McDonald's in your own city, you may want to leave McThai (this is its actual name) aside for the duration of your vacation and enjoy some of these amazing, traditionally Thai dishes instead. Be warned though, the Thai people really like hot spicy foods.
Tom Yum Goong
Tom Yum Goong is full of fragrant herbs and really represents the aroma of Thailand. The dish is full of lime leaves, lemongrass, shallots and galangal, which is what gives it its wonderful smell. Additionally, the kick is provided by the fish sauce and chilies. To give it a bit of substance, the dish contains mushrooms and the traditional goong (shrimps). It is hard to describe the flavor, but it seems to mix sour and spicy hot perfectly. It is often served as a starter, but if you add some rice to it, you will have a very filling main dish as well.
Pad Thai
Pad Thai is perhaps the most famous Thai dish of all. It is eaten all over the world and only very few people have never tried it. However, it is also a varied dish, with the traditional recipe having been changed regularly. Usually, however, it is a mixture of tofu, onion, bean sprouts and ground peanuts to go with a noodle dish. Pad Thai is generally a side dish. Additionally, if you order it in a restaurant, you will be provided with various elements to change it to your liking, such as sugar, fish sauce, extra crushed peanuts and chili powder.
Kuay Tiew
Kuay Tiew is noodle soup eaten with chopsticks. It is a true Thai experience and if you are in Bangkok you should not miss out on the opportunity to go the floating market and try some straight from a boat. Everybody seems to have their own Kuay Tiew recipe variation, so you could eat it every day and still feel as if you never ate the same thing. Generally, however, it is created with thin noodles (although you will find some with thick noodles, too), in a meat broth. The meat could be anything, such as chicken, pork, duck, beef or seafood. It is a delicious dish that most people simply cannot get enough of.
Som Tam
Som Tam is a type of spicy papaya salad. It is traditional to the north east of the country, but it can now be eaten everywhere. Although a sweet and sour dish, just how sweet or how sour it is will depend on where in Thailand you eat it. It will always contain shredded green papaya and a lot of chilies. It combines really well with sticky rice and barbecued chicken, another fantastic dish that you could quite literally live on for your entire vacation.