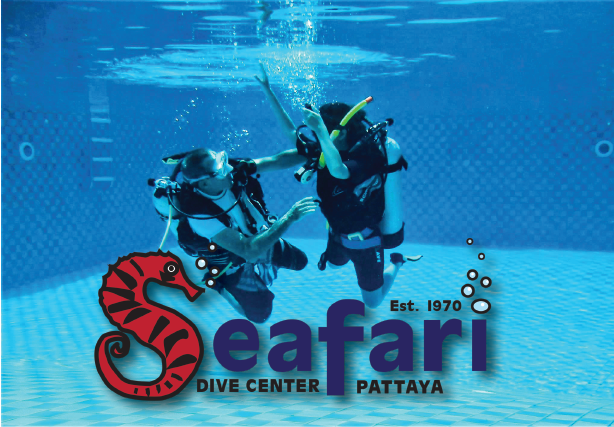 Thailand is a popular destination for scuba divers, with diving in Pattaya a top choice. Located in the gulf of Thailand, Pattaya has a diverse variety of marine life. In addition the tourist friendly facilities on the land make for a great base above the sea.
Many dive schools are available, offering all courses from entry level to pro. The oldest dive school is Seafari, which has been taking divers out in Pattaya since 1970 and is highly recommended.
If you are learning to dive, the PADI open water course is likely your starting point. The open water course certifies you to dive anywhere in the world. Or if you are short of time you can try a discover scuba session instead. This just takes one day with a dive or 2 accompanied by an instructor.
For certified divers daily dive trips are available. These are generally 2 dives per day, going out on a comfortable boat. Boat guests and snorkellers are also welcome. Each day trip offers lunch on the boat and a selection of healthy snacks.
When diving in Pattaya you can see many amazing fish and sea life. Turtles are common, along with moray eels and little nemo's. Lots of angel fish, butterfly fish, damsels, barracuda and stringrays join our dives. If you are really lucky you may even spot a whale shark or dolphin!
Pattaya is also lucky to be home to many shipwrecks, being one of the top wreck dive spots in Thailand. If wreck diving is your thing then you must check these out. The Hardeep and S.S. Suddhadib are some of our favourites.
If the diving gets you hooked then pro courses are also available. By training as a divemaster or instructor you can turn your hobby into a career. Imagine waking up each day in paradise to go scuba diving!