The Sriracha Tiger Zoo
With somewhere between 200 and 400 rare Bengal Tigers and no less than 10,000 crocodiles, the Sri Racha Tiger Zoo is considered to be one of the best attractions along Thailand's Eastern Seaboard. It is located in tambon Nong Kham, Sri Racha District, just thirty kilometers south of the outskirts of the seaside resort town of Pattaya Beach in the province of Chonburi. The tiger zoo was initially established as a farm to conserve and breed Bengal Tigers, an endangered species, for other zoos. The zoo which covers some 400,000 square meters of beautiful natural landscape was first opened in 1997. As well as providing a home to the world's largest collection of tigers and crocodiles, the Sri Racha Tiger Zoo also houses numerous other exotic and farm animals.
The zoo, which was labeled as the "greatest tiger zoo in the entire world", is divided into four zones:
The tiger breeding zone

The tiger talent show zone

The crocodile & other animal zone

The tiger cub feeding room
In the tiger breeding zone one can see hundreds of tiger of all ages doing what tigers do in the zoo's outdoor playground. The talent show zone showcases the cleverness of the big cats. Watch them perform acrobatics, jump through flaming hoops and interact with their fearless handlers. The crocodile animal zone is where … well, one can view crocodiles and other animal, such as chimpanzees, elephants, ostriches, single hump camels, wallabies, Peruvian guinea pigs and deer. The tiger cub feeding zone is perhaps the zoo's most popular attraction. There it is possible to hold the tiger cubs in your arms while bottle feeding them milk.
As you stroll through the zoo's immaculately landscaped gardens you will pass an aviary filled with an assortment of exotic birds, a petting zoo where children and adults can interact with smaller animal of the world, an animal breeding and training learning center, and the elephant museum which features a collection of life-sized elephant figures that range from the extinct wooly mammoth, to ancient Thai war elephants to today's gentle giants from Africa and Asia. In addition there is a regularly scheduled tiger show, elephant show, crocodile wrestling show, pig racing show, and a demonstration of how it is possible for dogs, pigs and tigers to live peacefully together.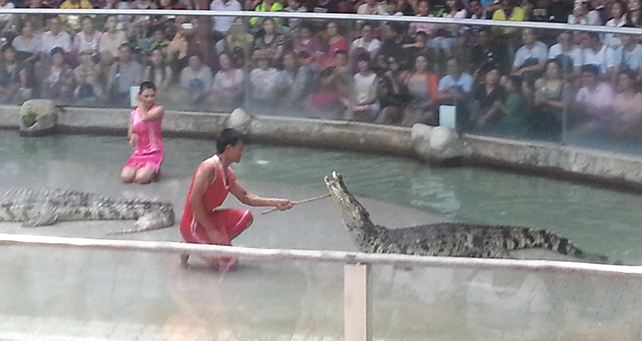 Opening Times
The Sri Racha Tiger Zoo is open daily from 8:00am to 6:00pm. On the grounds of the zoo there are several excellent restaurants serving fresh seafood, Chinese, European, Thai and authentic Korean cuisine for your dining pleasure.
Entrance Prices
As of August 2015, entrance prices were 250 baht for children and 450 baht for tourists, foreign nationals with a Thai driving licence or work permit are entitled to entrance at the Thai price of 200 baht.
Watch a video of the crocodile show
How to find Sriracha Tiger Zoo
สวนเสือศรีราชา
หมู่ ที่ 3 513/5
Si Racha District,
Chon Buri
20110
Phone: (038) 296556-8