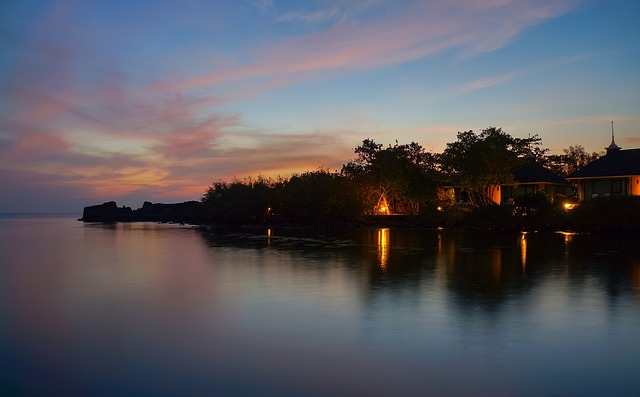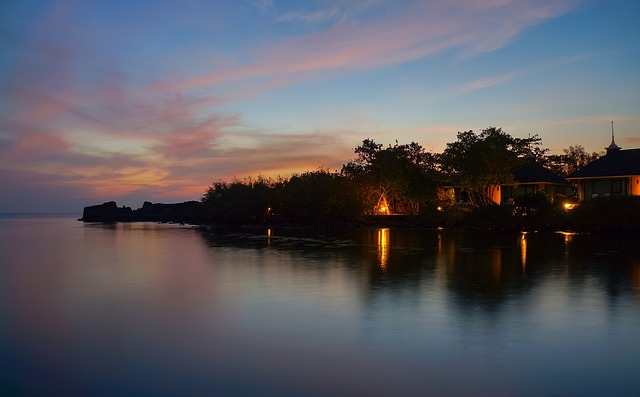 Koh Chang is the second largest island in Thailand after Phuket and is located in the Gulf of Thailand in the province of Trat. The island has plenty of natural beauty including rainforests, beaches, waterfalls and mountains and is particularly popular during the cool season that lasts from November until the end of March. During this time you can expect bright blue skies and calm seas with temperatures averaging between 27C and 30C.
The island has lots of hotels as you would imagine for somewhere so idyllic. Your choices range from rustic beach huts to luxury resorts – whatever you are looking for and whatever your budget you are sure to find the perfect solution for your needs. Below is a list of 10 great places to stay on the island of Koh Chang:
1. KC Grand Resort
KC Grand Resort is located at White Sand Beach and is a four star resort aiming predominantly at families. All of the rooms are located in the lush gardens and offer either views of the sea or back across gardens. This hotel as 4 swimming pools, spa, children's play room and a wide variety of beach activities including volleyball and kayaking.
2. Paddy's Palm's Resort
Again located at White Sand Beach, Paddy's Palm is Koh Chang's first Irish pub. This is a popular venue for sports lovers with the onsite pub offering an extensive Thai and western menu and aims more at younger travellers. The rooms are all comfortably furnished and include everything that you would expect in a modern hotel.
3. Paradise Resort
If you are looking for a romantic getaway then the Paradise Resort is for you. Situated in the Klong Prao Beach area of the island, the hotel has beachfront access, crystal clear waters and superb stretches of white sand. The resort has 80 villas or bungalows that are excellently furnished and the hotel has great facilities including swimming pools.
4. Baan Rim Nam
The Baan Rim Nam is again at Klong Prao Beach and is a restored fisherman's house located on the estuary. This is a cosy guesthouse with just five rooms making it one of the best places to stay on the island. Close by you will find a selection of restaurants and bars. The rooms are all traditionally fitted out and include everything that you would expect.
5. Pajamas Hostel
The Pajamas hostel is again at Klong Prao Beach and offers unique, affordable accommodation. You can book either a private double room or into one of the single sex, 8 person dormitories. This hostel is aimed at backpackers or couples travelling on a budget.
6. Gajapuri Resort
The Gajapuri Resort is located at Kai Bae Beach and has a different feel to many of the other resorts on the island mainly because of the boutique style. The resort's modern cabins are connected by wooden walkways and the setting is in itself beautiful and tropical. The rooms are extremely spacious and include everything that you would expect from a luxury resort.  The resort has a private beach that is divided in two, one side for families and the other for adults only.
7. Garden Resort
Another hotel located at Kai Bae Beach. The resort offers traditional Thai thatched bungalows that all have private patios situated amongst the well kept gardens. This is a very peaceful resort that is reasonable priced. The bathrooms are unique in that they have bamboo pipe showers and bamboo sinks. The hotel has a bar and restaurant and the beach is only a 15 minute walk away.
8. Oasis Bungalows
Oasis Bungalows are 12 bungalows spread out along across the hill at Lonely Beach. This is a quiet location that is a great place to watch the sunset and escape from the noise but still close enough so that you can enjoy the nightlife if you so wish. If you are looking for a natural, typical beach setting this will be perfect for you with a range of bungalows to choose from.
9. Amber Sands Beach Resort
Amber Sands Beach Resort is located in east Koh Chang and is a rather intimate 8 room bungalow resort with stunning views back to the mainland and across to Cambodia. The resort has plenty of charm and character and has a fresh water swimming pool. The beach front restaurant serves both Thai and western food and the rooms are always well furnished and have all the facilities that you would expect from a boutique resort.
10. Mangrove Hideaway
The Mangrove Hideaway is located on the south coast of Koh Chang away from all the crowds and is certainly most people's definition of paradise. The Hotel is located in the sleepy fishing village of Salak Phet and is limited to just 12 guest rooms. The hotel has a green policy so all of the rooms are designed around this concept but include everything that you would expect from an upmarket hotel.